This article is part of a series: (i) 'An Introduction', (ii) 'Types of Demand', (iii) 'Types of Supply' and (iv) 'Win-win Relationship' and the series is part of the content of Module number 8 "Service Provision" of the International Master Online in FM that the FMHOUSE Institute will launch in September 2016.
With this article we want to share simple and clear information that makes it easier to distinguish in the market amongst the growing diversity of FM suppliers that exist, so a client can choose the proper partners and know everything necessary before inviting them to tender. It can also be useful for the supplier companies to allocate themselves in a segment or another, which can help them to identify their target clients and differentiate them amongst their competition. As we always say, without good FM providers we could not have good FM models.
There has always been a need to be supplied with goods and services, as companies are not self-sufficient. Service providers have always been there to satisfy organizational needs. The ways we get this provision has evolved, but it is obvious that outsourcing is the best way in most cases.
Tangible assets, like a computer or a desk, are not the same as a continuous or recurrent service, as any services related to or needed to support an organization's operation or people are. Although there is a relationship, as we shouldn't buy a piece of equipment or any asset without thinking about its availability, its maintenance or the cost of its life cycle, which are factors directly related to FM services.
So, who is an FM provider? Although we would need go deeper into this, we can say without a doubt that an FM provider is the one that covers a need that has been defined with-in FM parameters. It is simple but key. Services have always existed, but the difference lays on the fact that now we can define them with a different structure, a Service Level, which is the foundation of any FM model. To make this clear, a furniture supplier that understands what I want when I share an SL with him and makes a proposal with a matching service is an FM provider. The same goes for a reprography, maintenance or security provider.
In FM we are too often used to associate services with operational services (a big issue that moves FM form the strategic level), but the truth is that an organization has many more needs and covering them is part of Facility Management. Without getting into detail, space optimization, operational costs analysis or workspace impact on productivity are needs that must be covered and very seldom are identified as services.
Getting back to more usual issues, operational needs, those that we understand as services, change and we must align them as much as possible to their demands, which requires periodic adjustments. It is obvious that what a company needs or demands on the 1st of January it is not the same as what it might need or demand on December 31st. Changes in direction, markets or internal structures will make it necessary to keep that continuous improvement attitude within the operational activities model. This will imply decision-making and management activities during the life of the contract.
Please note that, suppliers give what they are asked for, so we should be sure about what we want and, above all, we should define and communicate it properly. Management and provision models, their structure and composition always depends on what the client asks for, and the client should be assessed independently. If you need to buy your car fleet and you ask BMW, they won't suggest that you buy Audi or Mercedes-Benz, he will advise you to buy his product.
The definition is the foundation of the model and it must be solid, since it will determine provision and the type of supplier. In the FM Masters program, module 6 is dedicated to Service Definition, but we will give now some guidelines in order to understand the future relationship with the different types of suppliers. To make it simpler, we can differentiate between an "S" (traditional Service) and an "SL" (Service Level) as it is shown in figure 1: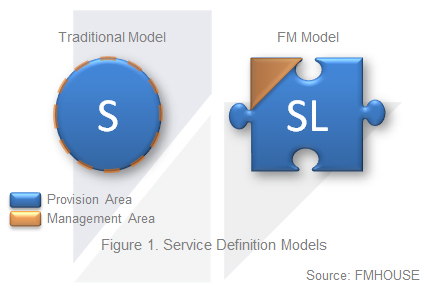 In both figures, the blue area represents the need to be covered, this is, the amount of resources that are necessary to satisfy the "service". The part coloured in orange represents the decision-making area, what we call service management.
In the case of the "S" we can see that the orange does not represent an area, but something that surrounds the service and that we know it is not always there or it is but vaguely. The blue area, the one that defines the service, has the shape of a circle and shows that it covers the need without worrying about what is around it or whether it fits properly or not.
In the case of the "SL" we can see that there is an orange area, a space dedicated to that service or need, without it the shape is not complete. The blue area is encapsulated in a puzzle piece shape, which gives us an idea of its interest in fitting in its surroundings in the most precise way.
The most relevant thing when comparing both drawings in figure 1 is that although the blue areas may be the same size it is obvious that what is asked for is not exactly the same, the shape is not the same, the relationship that should exist with their surroundings is not the same. We can also see a difference in the orange areas, management. While in the "SL" there is a clear need to define the area, which means that a decision regarding the service needs to be made, at the "S" it may or may not be like that and its relationship with the blue area is vaguer.
This is one of the biggest determinants when looking for a provider in an FM model. Although its can be decided in-house, the provider must understand and accept and if it is required as part as the service provision, it must be well defined and the supplier or suppliers must be able to provide it. We cannot forget that at this point we are only defining; we don't know who will provide the service, if it will be in-house or outsourced, if it will be one or several suppliers or if we want management and execution at the same time. This is what will be defined in the Provision model.
Most FM suppliers are also traditional services providers, since this is where they started, and let's be realistic, they are still partly there. In the markets we work in, Europe and Latin America, traditional services represent over 90% of their turnover, although it is also true that this number is reduced every day in favour of contracts with more or less advanced FM models.
This is why when we want an FM contract we should let the suppliers know that what we want is not a traditional contract, we want something more, more risk transfer, we know they can do it and we want their commitment but we need to help by giving a clear definition of our needs and a dose of realism and trust.
We will continue at our next article with the types of demand, this is, with the provision models we can face.
Photo by: Horia Varlan http://bit.ly/1UU3UbG